A Bibliography of Ant Systematics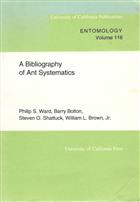 Description:
Comprehensive compilation of the literature on ant systematics 1758-1995. Entries for approx. 8,000 publications on taxonomy, evolution and comparative biology of ants.
Condition
Vg. Bookplate and signature of Graham Wakely Elmes (1943-2017), British entomologist and specialist on the Myrmica ants.
Other titles from the series : University of California Publications in Entomology
You may also like...