A Catalogue of the African Hesperiidae / A Catalogue of the Hesperiidae from Europe, Asia and Australia / A Catalogue of the American Hesperiidae, Pt 1-4 … in the British Musuem (Natural History)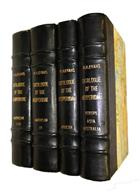 Description:
Complete set of this scarce catalogue of World Hesperiidae: Africa (1937), Europe/Asia/Australia (1949), America, 4 vols (1951-55)
Condition
Uniformly bound in 4 vols, qtr morocco, raised bands to spines, marbled endpapers/boards; speckled edges. Fine craft binding by 'M.M.' (Monique Macaux).
Other titles from the collection : Henri Dirickx Library
You may also like...