A Study of the Biology and Behavious of the Caterpillars, Pupae & Emerging Butterflies of the subfamily Heliconiinae in Trinidad, West Indies. Part 1. Some Aspects of Larval Behaviour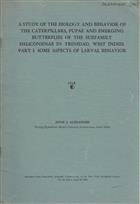 Description:
Reprint from Zoologica, Scientific Contributions of the New York Zoological Society, Vol. 46, Part 1.
Condition
Vg, neat ink annotation to wrapper
Other titles from the series : Zoologica
You may also like...