Aquatic and Wetland Plants of India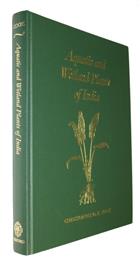 Description:
A reference book and identification manual for the vascular plants found in permanent or seasonal fresh water in the subcontinent of India south of the Himalayas. About 660 species are described and the style of the text is accessible both to experts and to those with only a little botanical training. All the plants are illustrated by line drawings showing the diagnostic features.
Condition
4to, orig. green buckram, gt design to front board. A fine copy of the original edition.
You may also like...