Atlas of Bryophytes of Britain & Ireland. Vol. 1-3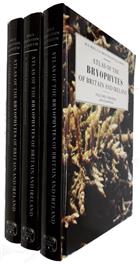 Description:
Vol. 1: Liverworts (Hepaticae & Anthocerotae); Vol. 2: Mosses (except Diplolepidae); Vol. 3: Mosses (Diplolepidae).
Condition
3 vols, orig. boards, a few minor bumps. Owner's name to endpapers. Vg set.
Other titles from the collection : Prof Jim Green
You may also like...