Über entomologische Sammlungen. Entomologen & Entomo-Museologie. Teil I-III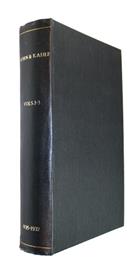 Published In : Berlin-Dahlem
Illustrations : 38 b/w plates, 3 text figs
Description:
Text German. The work is arranged under the name of the collector, and gives full details of each collector's name and lifespan dates, along with the whereabouts of the collection and the group(s) of insects it contains. The plates contain examples of specimen labels in the handwriting of well-known entomologists, naturalists and collectors.
Sonderdruck von Entomologische Beihefte aus Berlin-Dahlem. Bd. 2-4.
Condition
8vo, later cloth, light bump to foot of spine, orig. wrappers retained. Lacks final version of the 'Einleitung' pp. i-vi, but with interim 'Einleitung' and explanation of plates I-XVI (issued with Parts I/II) bound at rear. Good.
You may also like...