Blowflies (Calliphoridae) of Fennoscandia and Denmark (Fauna ent. scand. 24)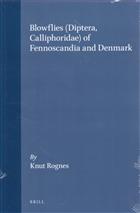 Description:
Print on demand version of the original 1991 edition.
A taxonomic revision of the blowflies of Fennoscandia and Denmark. Keys and diagnoses, descriptions, summaries of distribution and biology are given for all taxa. Male and female genitalia are illustrated in great detail. The nomenclature is revised and numerous new specific and generic synonymies are established. Full references to the primary literature are given. A new subfamily classification of the world Calliphoridae is proposed on the basis of cladistic principles. The definition and higher classification of the family and related groups are discussed.
Other titles from the series : Fauna Entomologica Scandinavica
You may also like...