British Tortricoid Moths [Vol. 1+2]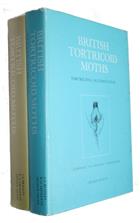 Description:
Vol. 1: Cochylidae and Tortricidae: Tortricinae; Vol. 2: Tortricidae: Olethreutinae. Scarce as a set. Vol. 2 is particularly difficult to obtain as it was issued in a much smaller print run than vol. 1.
Condition
2 vols, 4to, orig. green buckram, gt. Slight spotting to edges and d/w's. Very good set.
Other titles from the series : Ray Society Monographs
You may also like...