Butterflies (New Naturalist 1)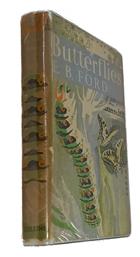 Description:
First edition. 'Butterflies' was a landmark book not only because it was the first in the New Naturalist Series and because of its photographic plates, but also it was the first book in the literature of Lepidoptera to examine butterflies 'as part of the great panorama of biology'. Miriam Rothschild considered Ford's book to be the best ever written about butterflies.
Bernhard & Loe, NN1A.
Condition
8vo, orig. cloth. Vg in d/w (d/w darkened to spine and rear panel, chipped to head/foot of spine and corners; folds to flaps rubbed/chafed and worn through in several places; in removable clear protective sleeve). From the library of Keith Hyatt (d. 2021), acarologist at the Natural History Museum, London, and prominent member of the London Natural History Society, with his name to front pastedown, and his occasional neat pencil annotations to margins.
Other titles from the series : New Naturalist Main Series
Other titles from the collection : Keith Hyatt
You may also like...