Conserving Migratory Pollinators and Nectar Corridors in Western North America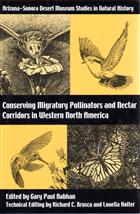 Description:
When migrating birds and other creatures move along a path of plant communities in bloom, they follow what has come to be known as a nectar trail. Should any of these plants be eliminated from the sequence - whether through habitat destruction, pests, or even aberrant weather - the movement of these pollinators may be interrupted and their very survival threatened. This book, a unique work of comparative zoogeography and conservation biology, is the first to bring together studies of these important migratory pollinators and of what we must do to conserve them. It considers the similarities and differences among the behaviour and habitat requirements of several species of migratory pollinators and seed dispersers in the West - primarily rufous hummingbirds, white-winged doves, lesser long-nosed bats, and monarch butterflies.
Condition
Fine in d/w.
You may also like...