Copepodi Harpacticoidi del Golfo di Genova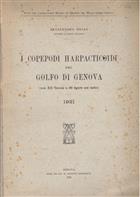 Description:
Text Italian. Studi del Laboratorio Marino di Quarto dei Mille presso Genova
Condition
Orig. wrappers, with tears and loss to spine, some foxing. Lacks 4 plates (provided in photocopy)
Other titles from the collection : Dr Richard Hamond's Library
You may also like...