Ecology of the Wadden Sea. Vol. 1-3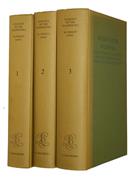 Collection : Prof Jim Green
Publisher : Balkema
Published In : Rotterdam
Illustrations : text figs, 5 folding maps (4 col)
Description:
Vol. 1: Geomorphology/Hydrogeography; Flora and Vegetation/Invertebrates; Vol. 2: Fishes and Fisheries/Birds; Marine Mammals/Pollution; Vol. 3: Flora and Vegetation of the Islands; Terrestrial and Freshwater Fauna; Nature Conservation and Management. Complete with Appendix to Report 9: Landscape & Vegetation Maps (5 folding colour maps) in separate small card portfolio.
Condition
3 vols, buckram, spines faded. Owner's name to endpapers; also small card portfolio containing maps. A very good set.
Other titles from the collection : Prof Jim Green
You may also like...