Entomologist's Gazette. Vol. 18, parts 3+4: Robin M. Mere Commemorative Issue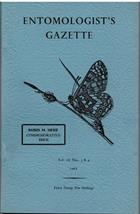 Description:
Contents: Classey: Robin Marcus Mere; Haggett: Robin Mere, a personal appreciation; Messenger: The late Robin M. Mere as a collector; Huggins: Robin Mere in the field; Eve: List of entomological writings of Robin M. Mere; Bradley et al: Lepidoptera of the Burren, Co. Clare, W. Ireland; Bradley: Changes in the Nomenclature of British Lepidoptera 7; Pelham-Clinton: Bucculatrix merei sp.nov., a newly discovered Scottish species; Tremewan: Zygaena viciae Denis & Schiffermuller in West Scotland; Worms: Review of some Macrolepidoptera in Ireland in the post-war years; Bretherton: Good Years and Bad Years at the Light Trap, 1952-1963; Lorimer: Artificial Cold Treatment of hibernating fully fed Larvae; Uffen: British Records of Coleophora sylvaticella Wood; Gardner: New Record of Lythria purpuraria (L.); Shafer: Illustrated Note on Biology of Rotruda carlinella (Heinemann); Bristowe: More about Joseph Dandridge and his freinds James Petiver and Eleazer Albin; Fourteenth Century Butterfly Nets; Life of Eleanor Glanville
Other titles from the series : Entomologist's Gazette
You may also like...