Estimating Extinction Rates Sir Joseph Banks Anniversary Meeting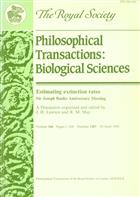 Description:
Phil. Trans. R. Soc. Lond. B, Vol. 334(1307). Includes a paper by C.J. Humphries & C.T. Fisher 'The Loss of Bank's Legacy', pp. 3-9
Condition
Vg. From the library of Prof. Chris Humphries with his signature.
Other titles from the collection : Library of Prof. Chris Humphries
You may also like...