Expedition to South-West Arabia 1937-8 Vol.1 nos 9-15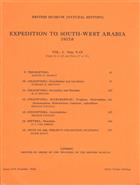 Description:
Six scientific reports of insects collected from the BM(NH) expedition to Aden and Yemen, including, Trichoptera by M.E. Mosely; Coleoptera: Cicindellidae and Carabidae by E.B. Britton, Druopidae and Elmidae by H.E. Hinton, Scarabeidae, and Corylophidae by R. Paulian; Diptera: Muscidae aby F.I. van Emden and Note on Mr. Philby's Collecting Stations by H. Scott.
Condition
Vg
Other titles from the collection : Prof Jim Green (1928-2016)
You may also like...