Family-Level Keys to Freshwater Fly (Diptera) Larvae: a Brief Review and a Key to European Families avoiding the use of Mouthpart Characters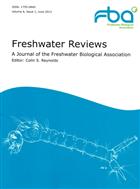 Description:
Identification of larvae of aquatic Diptera is complicated by a range of factors, including reliance on examination of mouthparts at the very beginning of many keys, as well as an unclear distinction between aquatic and terrestrial habits for many species. Even at family level, these can cause problems. This review, published in the FBA's journal 'Freshwater Reviews', attempts to address this issue by developing an alternative method for identifying freshwater Diptera larvae. It initially considers the morphological problems encountered when producing a simple key to aquatic Diptera families, and then briefly reviews the families that occur in fresh waters, with particular reference to those that are not normally considered to be part of the aquatic fauna. It then presents a key to European freshwater Diptera families, avoiding the morphological features that cause the non-specialist so much trouble when using most of the currently available keys to the group, and incorporating six families not normally considered to have aquatic representatives. The key is copiously illustrated with line drawings, mainly of whole animals. Published in 'Freshwater Reviews' 6(1).
You may also like...