Fauna ČSSR 16: Lupenonožci - Branchiopoda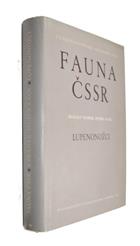 Description:
Text Czech with short summaries in Russian and German.
Condition
Vg in d/w. From the library of Prof. J. Green (1928-2016) with inscription to him from the second author.
Other titles from the series : Fauna CSR
Click to view all titles in this series...
Heyrovsky, L.; Slama, M.
Price £15.00

You may also like...