Ferns of Hawai'i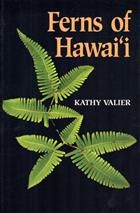 Description:
Introductory work, the first of its kind, which covers the sixty main species of ferns and fern allies of the two hundred or so found on the Islands. Each species has a section devoted to description, location, and use. Hawaiian, common, and scientific names are provided.
Condition
Vg.
Other titles from the collection : Prof Jim Green
You may also like...