Field Guide to the Moths of Great Britain and Ireland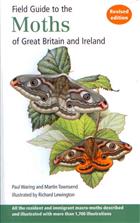 Description:
2nd edition. This field guide to all the species of larger moths known from Great Britain and Ireland illustrates the species in their resting posture. Information on identification, life-cycle, foodplants, habitats, status and distribution
Other titles from the series : British Wildlife Field Guides
You may also like...