Flies of the British Isles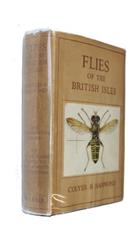 Description:
1st edition.
Condition
Sm. 8vo, cloth, gt. Vg in d/w (a few nicks and chips to extremities; slight browning to spine; in protective sleeve). Owner's name to endpaper.
Other titles from the series : Wayside & Woodland
Other titles from the collection : Prof Jim Green
You may also like...