Fungi. 1.Teil/Pt 1: Lichens Süßwasserflora von Mitteleuropa (Freshwater Flora of Central Europe) 21/1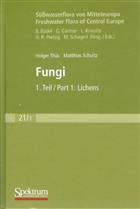 Description:
Text English. Deals with freshwater lichens. The freshwater lichen flora has a huge potential for bioindication of silting, bedrock stability, constancy of inundation and acidification. Detailed descriptions of all known amphibious taxa as well as photographs of most of the species are given. Keys include specialized freshwater species as well as a selection of taxa with a wide ecological amplitude, which are found at the borders of streams and lakes.
Condition
Vg.
Other titles from the series : Süßwasserflora von Mitteleuropa
You may also like...