Guide des coléoptères d'Europe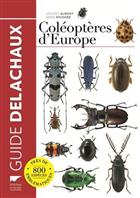 Description:
Among the 20,000 species known in Europe, this guide includes the most common or most remarkable beetles which can be easily identified by eye. Each species is accompanied by a close-up photograph to aid identification, and notes on distribution, biology, ecology and behaviour. The introduction includes information on anatomy, development, lifestyles. It is complemented by a short history of their scientific discovery, as well as an account of the interactions between beetles and humans, which can be beneficial or problematic depending on the species. It emphasizes their essential role in ecosystems and the importance of ensuring their conservation.
* Nearly 800 species, all photographed in very high resolution at high magnification
* A guide aimed at a wide audience, from the curious amateur to the expert in entomology
Other titles from the series : Guide Delachaux
You may also like...