Hortulus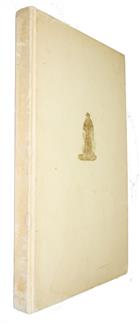 Description:
Edition limited to 1,500 copies. This volume is facsimile reproduction the 9th century calligraphic manuscript of the 'Hortulus', comprising ff. 30-39 of the Codex Latinus bibliotheca regia no. 469. The Latin text has been transcribed and translated into English by Raef Payne. Commentary by Wilfrid Blunt. Walahfrid Strabo (808-849 CE) is remembered in large part for his work 'Hortulus' [Little Garden], one of the very few first-hand descriptions of an early medieval garden. Book includes a chapter on the editions of 'Hortulus' by G.H.M. Lawrence.
Condition
Paper covered boards, gt, spine a bit darkened, light staining to boards, marbled endpapers; some wear to rear hinge. Vg. Inscribed to Hazel Le Rougetel (1917-2010), author of 'The Little Book of Old Roses', a classic work on rose varieties from the Middle Ages.
You may also like...