Insect and Bird Interactions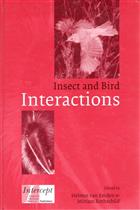 Description:
Contributions from international experts cover the diversity of interactions between insects and birds. Population management, effects on birds of GM crop planting, increasing biodiversity in farming landscapes, birds as biological control agents; Effects of insecticides on bird populations; Foraging behaviour of birds on insects; warning colouration in insects and learning by birds; Insect parasites of birds, insects in the nests of birds; co-adaptation of insect ectoparasites with birds. Of interest to entomologists, ornithologists and ecologists
Condition
Fine - As new.
You may also like...