Jock of the Bushveld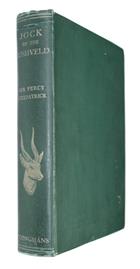 Description:
Illustrated by E. Caldwell. This book tells of the author's travels with his dog, Jock, a Staffordshire Bull Terrier cross, during the 1880s, when he worked as a storeman, prospector's assistant, journalist and ox-wagon transport-rider in the Bushveld region of the Transvaal (South Africa).
Condition
8vo, orig. green cloth, rubbed, slightly marked. A few small stains to fore edge and to lower margin of a couple of pages.
Other titles from the collection : Prof Jim Green
You may also like...