John Ray and his Successors: the clergyman as biologist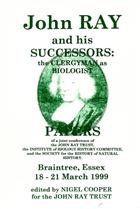 Description:
Papers of a joint conference of the John Ray Trust, Institute of Biology History Committee, and the Society for the History f Natural History, Essex, 1999.
Condition
Ink lettering to spine. From the library of Keith Hyatt (d. 2021), acarologist at the Natural History Museum, London, with his name and his review of the present book from The London Naturalist (2001) pasted to inside the front cover; and also with his occasional pencil marginal annotations.
Other titles from the collection : Keith Hyatt
You may also like...