Lepidoptera: Papilionoidea - Butterflies (Fauna d'Italia 54)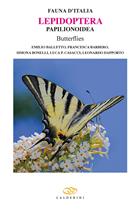 Description:
Text English. Presents the current state of knowledge on Italian butterflies, providing detailed information on their morphology, biology, ecology, ethology, genetics, distribution and conservation status. The butterflies will be covered in four volumes. This first volume includes a thorough general introduction and is dedicated to the Papilionidae, Hesperidae and Pieridae. It includes identification keys to adults and preimaginal stages, illustrated with colour plates and numerous line drawings.
Other titles from the series : Fauna d'Italia
You may also like...