Linneana Belgica Pars XIII-XX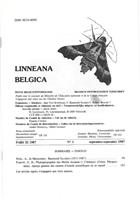 Illustrations : col photos
Description:
Revue Belge d'Entomologie (Revue Européenne d'Entomologie from Vol. XVII, 1999). Lacking the following four issues: XIV/3-5, 17/1. Also included are the following earlier issues: XI/3,4,7 (1987-88), XII/4,5 (1989). Publication largely quarterly, with each volume comprising 8 parts and spanning two years. Vol. XIX with a double issue (8+9). Vol. XX ceased publication with part 6 in June 2006; the editor died in December the same year. A final part 7, a special edition, was published in Dec. 2007.
Condition
8vo (XIII/XIV), 4to (XV-XX), orig. parts wrappers, as issued.
You may also like...