Memorials of John Ray, consisting of his life in Derham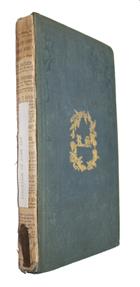 Description:
Biographical and critical notices by Sir J.E. Smith, and Cuvier and Dupetit Thouars. The lithographic frontis illustrates the tomb of John Ray at Black Notley, Essex.
Condition
8vo, orig. cloth, gilt, backstrip missing, boards holding firm. Glue marks to front pastedown; cont. owner's name to front endpaper, lacks rear endpaper; foxing and old stain (to bottom corner) to frontis; occasional light foxing. Poor.
Other titles from the series : Ray Society Monographs
Other titles from the collection : Ken Smith
You may also like...