Mites of the subfamily Parasitinae (Mesostigmata: Parasitidae) in the British Isles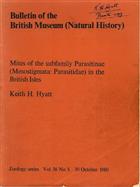 Description:
Bull. BM(NH) Zoology 38(5): 237-378.
Condition
Wrappers. Author's well thumbed copy, with a few minor pencil annotations. Hyatt's signature to front cover. Fair.
Other titles from the series : Bulletin of The Natural History Museum: Zoology
Other titles from the collection : Keith Hyatt
You may also like...