Monograph of the Genus Aponogeton (Aponogetonaceae)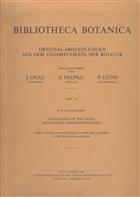 Description:
Text English. Bibliotheca Botanica Bd XXXIII (Heft 137).
Condition
Orig. wrappers. Vg. From the library of Prof. J. Green (1928-2016) with his name to title-page.
Other titles from the series : Bibliotheca Botanica
Click to view all titles in this series...
Michaelis, D.
Price £175.00
Other titles from the collection : Prof Jim Green
You may also like...