Moths of America North of Mexico 26.9: Noctuoidea: Noctuidae. Xyleninae, Apameini (Apamea group)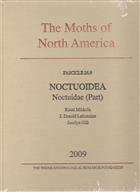 Description:
Treats 71 species in 5 genera (2 genera, 12 species + 6 subspp. newly described). Adults of all species illustrated in color. Diagnostic characters for all the genera and species. Molecular data has been used to resolve complex species issues. Identification keys for genera and species. Last instar larvae of 27 species are briefly characterized. Includes a synonymic check list
Other titles from the series : Moths of America North of Mexico
You may also like...