Nistökologie, Biogeographie und Migration der synanthropen Delta-Lehmwespe Delta unguiculatum (Eumenidae) in Deutschland und Umgebung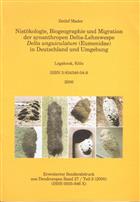 Description:
Text German. A study of the nesting habits, biogeography and migration of this synanthropic species of Eumenidae. An enlarged offprint from Dendrocopos 27/2
Condition
Vg. Peter Yeo's copy with his name inside front cover.
You may also like...