North American Watersnakes: A Natural History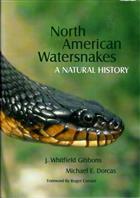 Description:
The first comprehensive study of all fourteen species of watersnakes found in the United States, Canada, Mexico, and Cuba. Species accounts explore all aspects of the natural history of watersnakes in North America, including behaviour, physiology, life history, ecology, and conservation. The authors also recount their personal experiences with various species, providing tips on locating, observing, and catching watersnakes, comment on the care of individual species in captivity, and outline the techniques used to study them.
Condition
Fine in d/w.
Other titles from the collection : Prof Jim Green
You may also like...