Outlines of Palaeontology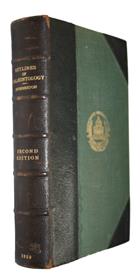 Description:
Second edition. Henry Hurd Swinnerton (1875-1966), was a British zoologist and geologist. He was also author of Fossils (1960), a book in the well-known New Naturalist Series (NN 62).
Condition
8vo, cont. prize half morocco, minor wear, teg, gt to spine, cloth covered boards with gt crest of University College, London. Ex-lib. with University of Oxford Museum plate and small ink stamp. Bequest of Dr. K.P. Oakley, 1982.
Provenance: K.P. Oakley's copy with his prize plate from his alma mater, University College, London. Kenneth Page Oakley (1911-1981), British anthropologist, received his BSc in geology (with anthropology as a subsidiary subject) at University College, London. In 1955 the Natural History Museum, London, created a sub-department of anthropology within its department of palaeontology, and Oakley became its head, holding the title deputy keeper (anthropology) from 1959 to 1969. Oakley made an important contribution to the exposure of the Piltdown skull hoax.
You may also like...