Principia Taxonomica Vol. II:Las teorias clasificatorias de Euritos de Taranto, Platon, Espeusipo y Aristotles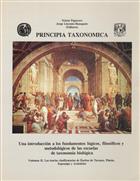 Description:
Text Spanish. Principia Taxonomica: Una introduccion a los fundamentos logicos, filisoficos y metodologicos de las escuelas de taxonomia biologica.
Condition
Vg
Other titles from the series : Principia Taxonomica
Other titles from the collection : Library of Prof. Chris Humphries
You may also like...