Principles of Insect Morphology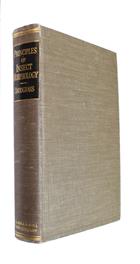 Publisher : McGraw-Hill
Published In : New York
Illustrations : 319 text figs
Description:
1st edition, 7th impression.
Condition
8vo, orig. cloth. From the library of Roger Crosskey (1930-2017), British dipterist, Natural History Museum, London, specialist on blackflies (Simuliidae), with his name and ownership stamp to endpapers.
Other titles from the series : McGraw-Hill Publications in the Zoological Science
Click to view all titles in this series...

Snodgrass, R.E.
Price £25.00

Quiring, D.P.
Price £30.00
You may also like...