Research and Captive Propagation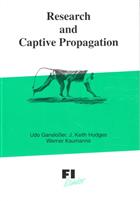 Description:
Provides a comprehensive overview of biological and veterinary disciplines for keeping and breeding endangered animals. Reviews of contemporary concepts and methods are combined with case studies on endangered species. Contributions include systematics, genetics, reproductive biology, nutrition and metabolism, behaviour, ecology, chronobiology, veterinary medicine and evolutionary biology.
Condition
Vg. From the library of Nicholas Gould (1941-2014), former editor of 'International Zoo News', with his book-plate.
You may also like...