Results of the Zoological Missions to Australia of the Regional Museum of Natural Sciences of Turin, Italy. 2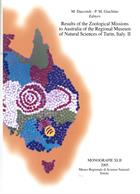 Description:
Second volume of results of research carried out by entomologists of the Museo Regionale di Scienze Naturali di Torino in Australia since 1991
Other titles from the series : Monografie/Museo Reg. Sci. Nat., Torino
You may also like...