Soil Fauna Assemblages: Global to Local Scales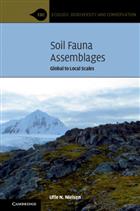 Description:
This book provides a modern introduction to the soil fauna and their contributions to ecosystem function, the mechanisms that structure soil fauna assemblages from local to global scales, and the potential impacts of global change on soil fauna assemblages and through this ecosystem function. Wanting to be an accessible primer, Soil Fauna Assemblages is a high level overview of current knowledge rather than a detailed tome of all existing information, with emphasis being placed on key findings and general patterns. It focusses on the soil fauna but contextualizes these assemblages in relation to the microbial assemblages belowground and the vegetation aboveground. It is clear that our knowledge of soil fauna assemblages is ever increasing, but there is still a lot to discover. Key areas of research are highlighted, with particular reference to the future of soil fauna assemblages.
Condition
Vg.
Other titles from the series : Ecology, Biodiversity and Conservation
You may also like...