Species Conservation: Lessons from Islands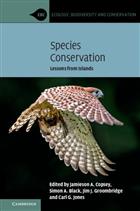 Description:
This book brings together leading conservation practitioners to reflect on their response to the current global biodiversity crisis, through the lens of island species recovery and management. Initial chapters cover the biological understanding of small population biology and the growing threat of invasive species, while subsequent chapters discuss the management of these threats and the complexity of leading projects within a dynamic and still relatively unknown system. Multiple case studies from islands worldwide illustrate key points, allowing readers to draw on the first-hand practical experience of experienced professionals. This resource will be invaluable to both current and future conservation professionals, helping them to go beyond disciplinary 'comfort zones' and develop, manage and lead projects over extensive timeframes in a way that brings others with them on the journey.
Condition
As new.
Other titles from the series : Ecology, Biodiversity and Conservation
You may also like...