Studies in Ancient Europe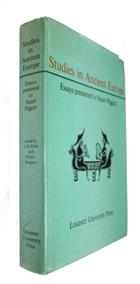 Description:
Ancient man in Europe, J. M. Coles; A preliminary study of the early neolithic and latest mesolithic blade industries in southeast and central Europe, R.Tringham; Some aspects of ovicaprid and pig breeding in neolithic Europe, J. Murray; Old mortality: some aspects of burial and population in neolithic England, R. J. C. Atkinson; Easterton of Roseisle: a forgotten site in Moray: I. C. Walker; The stone implement trade in third-millennium Scotland, P. R. Ritchie; Jet sliders in late neolithic Britain, I. McInnes; Stone mace-heads and the latest neolithic cultures of the British Isles, F. Roe; Scottish dagger graves, A. S. Henshall; Food Vessels; associations and chronology: D. D. A. Simpson; Fenland rapiers, B. A. V. Trump; Iron Age enclosures in the Cologne Basin, I. Scollar; Massive armlets in the North British Iron Age, M. S.; Shafts, pits, wells - sanctuaries of the Belgic Britons?, A. Ross; Hanging bowls, E. Fowler; Grass-marked pottery in Cornwall, C. Thomas; Problems and non-problems in palaeo-organology: a musical miscellany: J. V. S. Megaw.
Condition
Vg in d/w (one short marginal tear).
You may also like...