Survey of the World's Aphids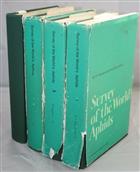 Description:
Two unique interleaved copies, each bound in 2 vols. Both sets are annotated with corrections and additions by V.F. Eastop and another hand, assumed to be D.H.R. Lambers, perhaps in prepation for a second edition.
Condition
4 vols, cloth, water stain to corner of front board and spine of one volume. Some pages loose.
You may also like...