Taschenlexikon der Schmetterlinge Europas: Die häufigsten Nachtfalter im Porträt [Pocket dictionary of butterflies in Europe: The most common moths in portraits]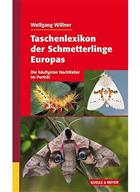 Description:
Text German. This pocket dictionary summarizes all the important information on the more than 800 most common species of moths in Europe. The author describes not only their characteristics and distribution, but also the way of life and its peculiarities. Together with brilliant photos of almost all species, this book enables successful access to this exciting group of insects and encourages you to study it more closely.
Dieses Taschenlexikon fasst alle wichtigen Informationen zu den mehr als 800 häufigsten Nachtfalter-Arten Europas zusammen. Der Autor beschreibt nicht nur deren Merkmale und Verbreitung, sondern auch die Lebensweise und deren Besonderheiten. Zusammen mit brillanten Fotos von fast allen Arten ermöglicht dieses Buch einen erfolgreichen Zugang zu dieser spannenden Insektengruppe und regt dazu an, sich näher mit ihr zu beschäftigen.
You may also like...