The butterflies of the Balearics: How little we know. A field guide-plus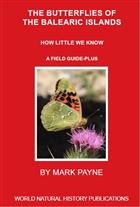 Description:
This book is the first ever written in any language on the butterfly species known from the Balearic Islands of Mallorca, Menorca, Eivissa, Formentora and Cabrera. It profiles in great scientific depth the nearly forty species recorded in the archipelago. The butterfly fauna of the Balearics is becoming better known with the advent of regular transect monitoring which has been running in the Biosphere island of Menorca for much of this century and in recent years been extended to Mallorca and Eivissa. Surprisingly, knowledge of the Balearic Rhopalocera remains poor, and was extremely inadequate and confused well into this century. Compared with study on mainland Spanish locations, the islands were very much neglected by professional and amateur entomologists alike throughout the twentieth century.
For the first time a comprehensive examination has been published, and this ground-breaking book analyses such concepts as crypsis, taxonomic confusion, voltinism, phenology, trophic resources, relationships with ants, source origins (Spain, Algeria or Sardinia) and the role of the Columbretes as a stepping stone between the Spanish mainland and the Balearic Islands for butterfly colonists. This last has been completely overlooked by the scientific community, and Mark Payne's species list for that rump volcanic islet is the only one that has ever been published. Still more aspects examined in this seminal work include palaeoclimates, land degradation and change by Man over the centuries, butterfly camouflage, parasitism, predation, pre-imaginal stages, host-plants, local abundance, migration, territoriality and other behaviour and island distribution. The text is complemented by numerous photographs, tables and more than 40 maps.
You may also like...