The Butterflies of the Canary Islands: The perfect island Laboratory. A field guide-plus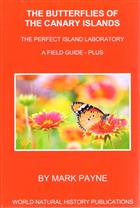 Description:
This book is the first ever written on the butterfly species of the Canary Islands and profiles in great scientific depth the nearly forty species known from the archipelago. The islands are home to an astonishing thirteen endemic species - some of them only formally recognised as such within the past several years. For the first time the results of never-before published molecular investigations into some of the endemic taxa are presented, together with a review of the species/sub-species debates that have run for decades. A case in point is the recent recognition of the evolution of five species of Hipparchia butterflies rather than of five sub-species of just one as was previously thought by many to have been the case.
in addition to the presentation of much ground-breaking research, issues examined in depth include habitat change, voltinism, phenology, trophic resources, relationships with ants, altitudinal ranges, the role of Ghost islands in colonisation patterns, palaeoclimates, chemical sequestration, parasitism, predation, pre-imaginal stages and cycles, wing patterning, concealment, reflectance, migration, local abundance, courtship and other behaviour island distribution and much more.
You may also like...