The Butterflies of the Madeiran Islands: nowhere to retreat to. A field guide-plus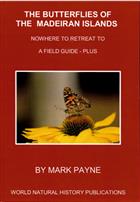 Description:
This book is the first ever written on the butterfly species of the Madeiran Islands (Madeira, Porto Santo and the Desertas), and profiles in considerable scientific depth the species recorded from this Atlantic Ocean volcanic archipelago. A particular focus is on the endemic species (four) known from the principal island of Madeira, one of which is thought to have become extinct in the late twentieth century - the fist known total extinction of a European butterfly species. A number of theories has been advanced for this by scientists and pseudoscientists in the past, with the author of this book suggesting, after an exhaustive literature review and extensive discussions with professional entomologists, one that has hitherto been overlooked and which is intimately connected with the biological concept of chemical sequestration. Further extinctions could lie ahead.
Another major focus of this ground-breaking book is the competition between the endemic Pararge xiphia species and the recent congeneric coloniser Pararge aegeria - to the detriment of the vulnerable incumbent. Other factors examined for the butterfly species include habitat change, colonisation patterns and known histories, new arrivals (which have in relative terms been astonishingly numerous), wing patterning, concealment, reflectivity, colouration, parasitism, predation, pre-imaginal stages and cycles, the role of Ghost Islands and palaeoenvironments, voltinism, altitudinal ranges, phenology, host-plants, territoriality and other behaviour traits, local abundance and much more. The results of recent molecular investigations in determining speciation and endemism are presented in for the first time ever. Possible future colonists are identified. The substantial text is accompanied by nearly two hundred photographs and numerous distributional maps.
You may also like...