The Carabidae (Coleoptera) larvae of Fennoscandia and Denmark (Fauna ent. scand. 27)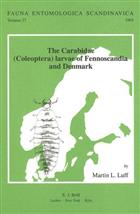 Description:
This book provides keys and descriptions for the identification of all the known species of larvae of Carabidae (ground beetles) of Fennoscandia and Denmark. It is profusely illustrated, and supplements previous volumes on adult Carabidae of the region.
Other titles from the series : Fauna Entomologica Scandinavica
You may also like...