The Ecology, Biogeography and Speciation of the Butterflies of Cabo Verde: Surviving and Sometimes Thriving in a Heavily-Degraded Tropical Oceanic Volcanic Archipelago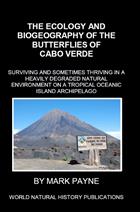 Description:
This book is the first ever written on the butterflies of Cabo Verde (formerly known as the Cape Verde Islands), an archipelago of ten volcanic islands and some islets which lies hundreds of kilometres off the coast of Senegal and forms the westernmost part and country of Africa. Cabo Verde is also the most southerly group of the biotic province of Macaronesia, lying a considerable distance to the south of the Canary Islands. Its butterfly fauna has been little studied, and is incompletely known. This substantial and thought-provoking book distils for the first time the author's extensive collecting and observational results made over six months in 1974, and it also incorporates a very large volume of all relevant published (as well as some unpublished) subsequent material made available right up to the time of going to press.
A total of 37 species of butterfly has been recorded in Cabo Verde, and the majority of them are examined in considerable scientific depth and detail. While predominantly afrotropical in origin, a significant Afrotropical and Holarctic element to the butterfly fauna confirms the inclusion of Cabo Verde within Macaronesia - although endemicity is low with (thus far) only one known endemic species. Others may remain to be found amid the extremely challenging and difficult terrain of much of this island chain. The book examines many important scientific issues and challenges much of the conjecture and opinion hitherto advanced for the butterfly species on the archipelago. Matters studied include extinction debt, colonisation and palaeoenvironments, vegetational systems, nature protection and conservation in Cabo Verde, anthropogenic degradation and alteration of the post-colonisation landscapes and biotopes, vagility, distribution, aposematic butterflies, Batesian mimicry, Lycaenid-Formica interactions, butterfly guilds, parasitism and much, much more.The book also contains a chapter on the history of butterfly collecting and study in the islands.
The text is lavishly illustrated with more than 50 maps and diagrams and a wealth of superlative photographs of adult butterflies, juvenile stages, habitats, ecosystems and landscapes, and it also details 135 sites across the archipelago where butterflies can most readily be seen, from the low-lying salt flats of the eastern islands to the spectacular volcanic crater of the 2,829-metre high Pico do Fogo (which is featured on the cover of this book). An extremely thorough and detailed bibliography and further reading list completes this very substantial and unique first-ever book.
The Butterflies of Cabo Verde forms part of a regional series of books on Macaronesia, which in turn will form part of similar scientific and reference works to the butterflies of every region of Europe, which in turn will comprise part of a world series which is intended in due course to cover the entire planet in a readable, scientific, concise and definitive systematic appraisal. This has never before been attempted, and should appeal to professional workers and to informed non-professional enthusiasts alike.
You may also like...