The Ecology, Biogeography and Speciation of the Butterflies of the Azores: Cutting the Gordian/Azorean Knot of Puzzle and Complexity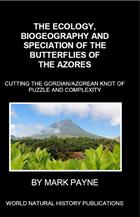 Description:
This book is the first ever written on the butterflies of the Azores, which is one of the remotest chain of islands in the world. Largely mountainous,of volcanic origin, the Azores has undergone almost total clearance of its native Laurisilva and other wooded biotopes since colonisation by Man. This book analyses in considerable depth the mass of scientific research and theorising that has characterised the study of butterflies in the archipelago for well over a century. The focus of investigation has very much been on the Hipparchia (Grayling) butterflies of the Azores, with often fevered debate over how many endemic species and sub-species have evolved in the islands. This name game reached its apogee at the turn of the century and has since become less frenzied with the initial but far from complete results of molecular investigation. One of the major hypotheses of this ground-breaking book is that phenotpic plasticity, rather than outright speciation has determined much of the morphological variability observed within the Azorean Hipparchia populations.
Other major scientific issues addressed in this unique book include the significance of Ghost Islands and Ghost Species to the Azores and to oceanic islands worldwide, seafloor spreading, colonisation by some species from North America, the extinction of others as a result of anthropogenic influences, the evolutionary significance of the Alba form - var.helice - of Colias croceus as a possible response to the onset of Quaternary glaciation, and much, much more.
All species of butterfly known from the Azores are examined in great scientific detail, as are concepts such as extinction debt, phantom "speciation" in the Pieridae family, and the ecology and habits of Azorean butterflies. A separate chapter is devoted to the intruguing hypothesis that Vanessa vulcania, or its progenitor taxon, arrived from North America, or even evolved in the Azores to subsequently colonise other parts of Macaronesia, only to become extinct in historical or geological time in its initial European home.
Nearly 30 maps and numerous superb photographs of species, habitats and landscapes illustrate this book, while more than 50 sites for butterfly observation are detailed. An extremely detailed bibliography and further reading list completes this very substantial scientific reference work and field guide
You may also like...